"Opinyon"
2013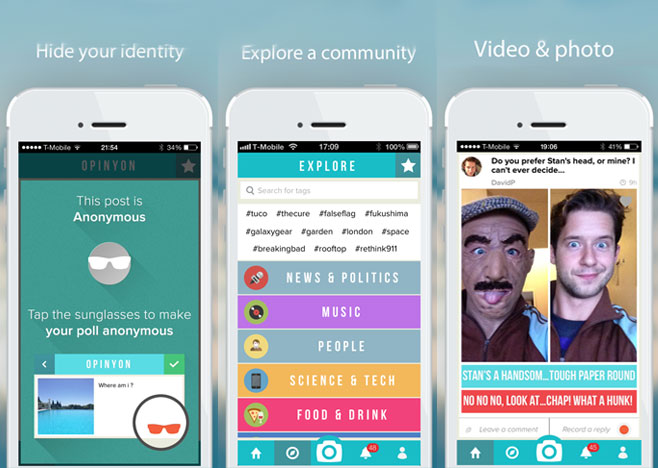 Opinyon lets its users create videos and photo polls in a fun way. They can have the community vote, share and record video replies and even ask people anonymously. It is an easy possibility for anyone to share and gather opinions so any topic one can think of.
Features include:
Record video replies
Post completely anonymously or as yourself
Post to friends only or the community with hashtags
Share on Facebook and Twitter
Real time updates from friends
Unlimited uploads and 100% free
I was contracted to do the full implementation of iPhone application in close collaboration with Lawrence Botley of DanTek. I also adviced the design of the REST interface on the server that the application uses to talk to the backend infrastructure. The design was delievered iteratively by an external designer as plain Photoshop files which I used to generate the app's graphical artefacts.
Special emphasis was placed on the appeal of the app to younger people. Not only did it have to have a colorful and cheerful appeareance, it also had to be animated fluently. During development I made sure that the animations didn't show any lag or stuttering to let the user experience the app as fast and responsive.
Technologies: iOS 7, Core Data, Core Animation, Xcode Instruments, in-app video recording and processing, Microsoft .NET, Microsoft Windows Azure (mobile and cloud services)